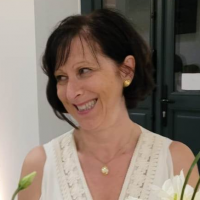 A J SAUNDERS
Romantic Suspense, Women's Fiction, Teen & Young Adult
Profession

English trainer
British born A J lives in the Loire Valley in France where she's an English trainer during the week and an author at the weekends. She doesn't know what's more challenging - trying to teach the 'present perfect' or coming up with a great plot for her books ! Pomegranate Tears is her latest novel about the true-life story of her mother. This is her third book and she doesn't want to stop there. She hopes to bring out one new book every year.
Her first book The Whispering Magpies was translated into French in July 2022.

A J's flash fiction 'Buy Chance' was published in the AFOW2 anthology in the US in 2019.
Ways to reach A J SAUNDERS